Durgamayi Ma
teaches Bhakti Yoga - the path of loving devotion, which she herself was granted to follow after meeting Sri Neem Karoli Baba in 1973.
In gratitude for Baba's love, Ma shares the experiences with Him and the realizations of her own path with all those who wish to learn from her.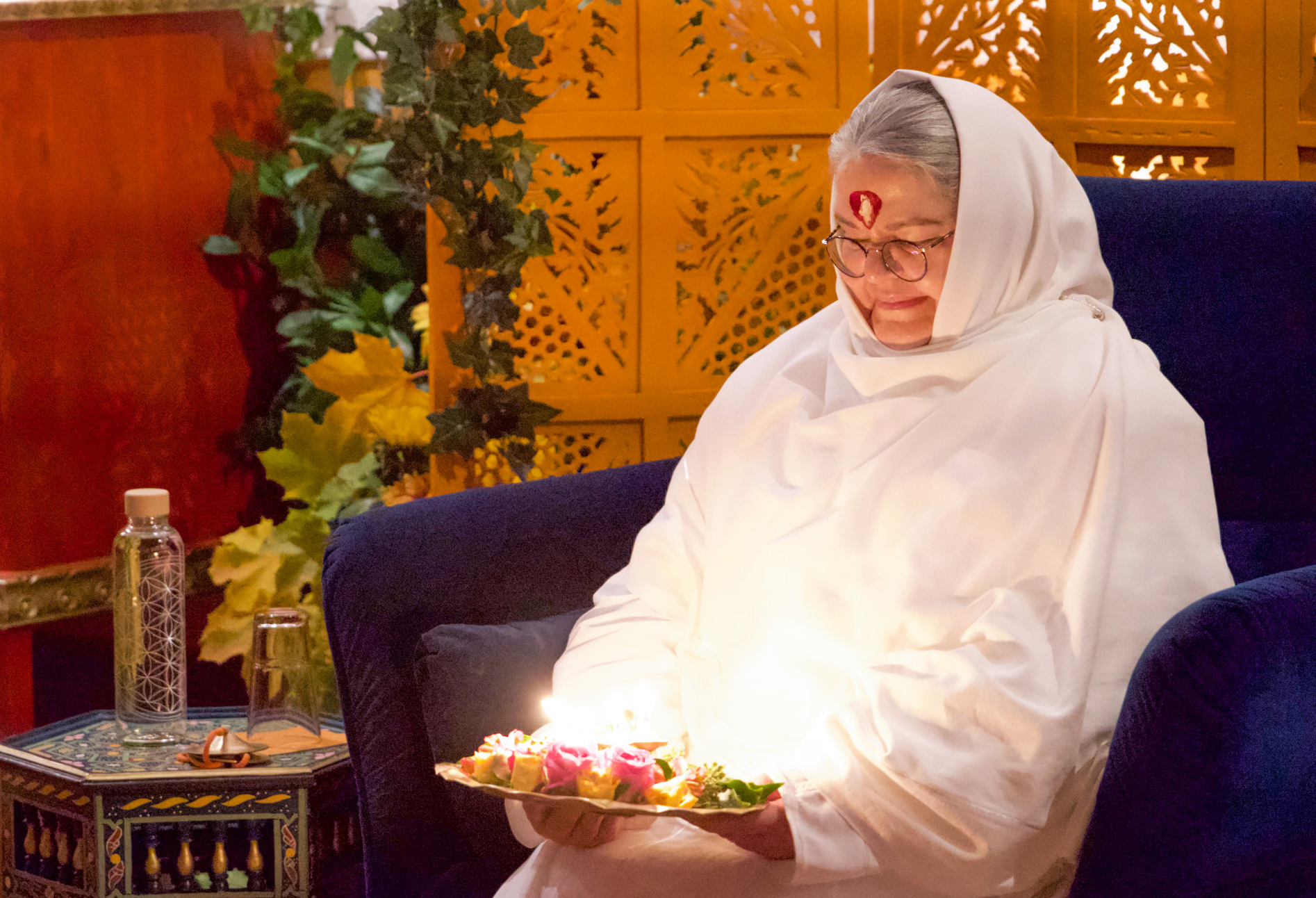 begins in Munich in 1972, where for the first time she sees a picture of Baba in the book Be Here Now by Ram Dass. Magically drawn to Baba's picture, Ma travels to India - back then overland through Turkey, Iran, Afghanistan and Pakistan - hoping to find Sri Neem Karoli Baba.
Ma meets Baba for the first time in His ashram in Vrindavan in spring of 1973. She becomes His chela and stays with Him until Baba leaves His body in September of this very year.
About one year after Baba's Mahasamadhi, Ma together with her spiritual companion Vishnu Digambar finds her Master Sri Ma Jaya Sati Bhagavati in New York and will later live in her ashram, the Kashi Ranch in Sebastian, Florida. At her side, she experiences seven intense years of spiritual learning - inspired by the one great desire to live life with God within this world.
Sustained by Baba's infinite love, Ma completes her journey as a chela in 1981 and enters the highest consciousness.
Meeting Ma can lead to a profound change in one's own life. Encouraged by Ma's love, which is not tied to any prerequisite or condition, we begin to free ourselves from personal suffering and develop loving and self-determined ways of acting - a big YES to life!
With unwavering faith in each individual, Sri Durgamayi Ma points out the inner mechanisms that keep us from realizing that the Divine lives within ourselves.
Ma  encourages us again and again to take action and shape our own lives - instead of waiting for someone to do things for us – or for the outside world to change.
In simple and easy-to-implement teachings, Ma teaches us to be mindful of HOW we act and not to get lost in WHAT we do - and thus to use our everyday life for spiritual practice.
Making the most of everyday life and integrating spiritual practice into our daily living is one of the fundamental experiences that Ma herself has made along her path and which she teaches for this reason.
Darshan, Ma's words and teachings in various forms as well as the practice of kirtan and meditation can become an anchor in the whirl of the world and help us to find our true home in the heart.
We can always turn to these practices, no matter where we are or what we are doing.
More than 50 years ago – in 1972 – Ma's own path began with her journey to India to meet Baba.
In the mid-eighties Ma's first chela began to gather around her and in the early nineties a first ashram was established – the Hanuman House – at that time in the village of Radelstetten, in the region of the Swabian Alb.
These pictures show special moments from Ma's time as a chela and later with her own chela.